Catch a Wish With Remote Control Fishing Boat
Remote Control (RC) boats are not always about racing on the water—the following products are some of the best remote control boats for kids and adults like, for purposes ranging from bait fishing to classic fishing (yes, actual fishing!).
Buying an RC boat doesn't have to be expensive—you can find the best RC bait-casting boats for excellent prices, with all the best features of modern RC fishing boats that you can find. I'll make a top 3 list of remote control fishing boats for sale.
Currently Known Remote Control Fishing Boats
Radio Ranger II" 34" Remote Control Fishing Boat
Found on Amazon for only $99.95 new, the Radio Ranger II Model is an RC (remote control) boat that can catch any size fish. Everything is already included in this purchase including the boat, the RC fishing pole, 7.2V-1800MAh boat battery, pistol grip transmitter with batteries, wall charger, boat stand, extra propellers, fishing line, bobber, and fishing hook—all included.
With an incredible 300 to 400 foot range, this nearly three foot long RC boat has variable speeds and acts as a real fishing boat for kids. This ensures that your child stays safe on the shore or on the dock, while the boat is sent out—your child has the fun of remotely controlling the boat and controlling the reel when pulling in a fish!
This is a highly rated RC boat by Fish Fun, and uses 2.4GHz remote system, which is used in the best of remote control boats on the market.
Goture Mini RC Bait Fishing Boat
The 2015 New Goture Mini RC Bait Fishing Boat has an incredible range of 200 meters and is a fish finder and lure boat. With action times between 2 and 3 hours, this ready to go boat only costs $166 on Amazon and is the perfect gift for kids who spend a lot of time on the water, love to go down to the docks or piers during family vacations, and for those who are fortunate enough to visit the lake for fishing and relaxation. This is one of the boats considered remote control fishing boat with baitcasting.
This RC bait fishing boat features a lure and metal container you can fill with your favorite bait. This bait casting is a feature most other RC fishing boats don't have. Coming in colors red and green, these attractive Mini RC bait fishing boats by Goture are the perfect boats for those who prefer electric powered RC water vehicles rather than gas or nitro powered. This Mini RC fishing boat is intended for a calm day of fishing, but has some power to the engine for playing around on the water.
Bass Pro Shop's Tracker Remote Control Fishing Boat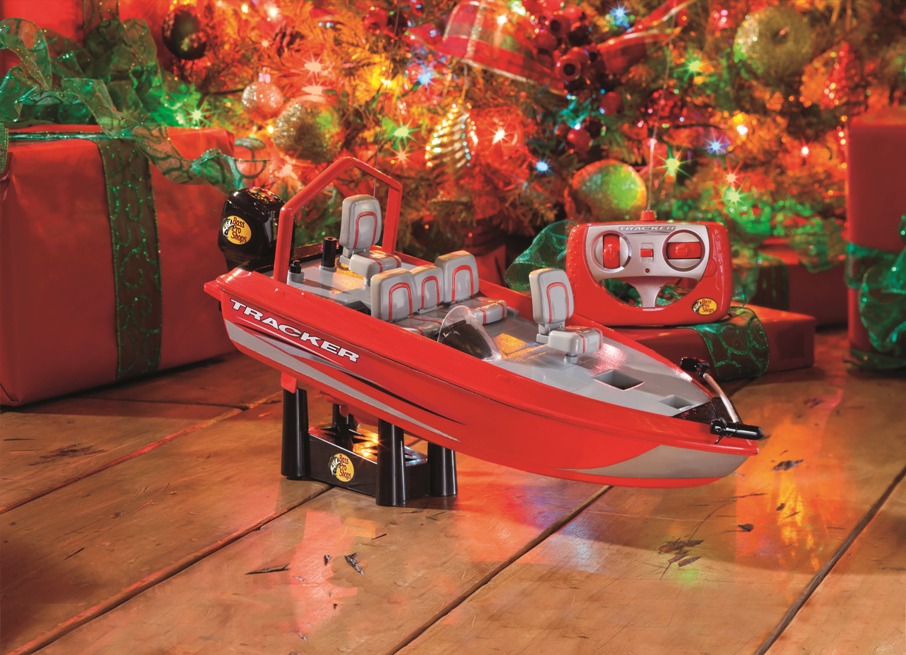 At an incredible cost of only $39.99, the Bass Pro Shop's Tracker RC fishing boat comes in 27 and 49 MHz frequency options and has an attractive red and gray hull. This fishing boat is great for those who are on the water or sitting on the dock and want to catch some fish.
One customer reported their positive experience with Bass Pro Shop's RC fishing boat, saying that he caught Bass, Rock Bass, and Bluegill—the largest fish he caught was 16 inches long. This boat works as a genuine fish and reel, and if you want to relax on the banks or on a dock and drive your RC boat out into the water and catch some fish—this is the perfect inexpensive boat to do it with!
You don't have to have a full-sized boat and fishing reel to have fun on the water—this RC boat can catch real fish up to 2 pounds, and it includes a bobber, a hook, a 2 pound test line (two of them), 5 foam floaters, a boat stand for when your boat is out of the water, and a telescoping rod that makes reeling in a fish easy and fun.
The Bass Pro Shop's Tracker Remote Control Fishing Boat has excellent radio controls for great responsivity, so all you have to do is send your boat out, relax, and wait for a fish to bite! When the bobber goes up and down on the water, you'll know you have snagged a fish, and you can remotely begin reeling in your fish!
Conclusion
Remote controlled fishing bait boats are a fun and easy way of teaching someone how to fish, enjoying fishing without having to get on the water, and using radio control to hook a fish and reel it in. Remote control boats for fishing are becoming more and more popular with the increasing technology that can now be put inside an RC boat hull.
The functions of these boats are what make RC bait and fishing boats so unique and fun—most people utilize RC vehicles for racing or driving around without purpose—with these boats, they serve a function and they do it well. Try out a remote control fishing boat today and go fishing with your kids, buy it for your child and their friends so they can fish safely, or buy it as a gift to someone you know who loves RC toys, fishing, and being on the water. They will love these unique and boats, and you don't have to spend an arm and a leg to buy them!